Hull Respray – Grand Banks 46
A Returning Customer, the Grand banks 46 was re-sprayed late 2018.
First we taped and prepped the hull for sanding and erect/adjust staging as required.
All planks and plank seams were sanded.
A wood primer was applied to all required areas, 4 coats in total, sanding between each coat.
All areas that were primed were then sanded, de-dusted and prepped for the hull's pre-coat, 4 coats of Internationals PreKote were then applied
Next was to tent up the Super structure to protect from over spray, the a re-sand of the area ready for Top-coat.
The working area was then sprayed with 4 coats of Awlcraft 2000 Topcoat, colour used in this application was Snow White.
A final light sand around all areas worked, the whole area then buffed to finish off.
We have also carried out this other work on the Grand Banks please click on the links below to take a look –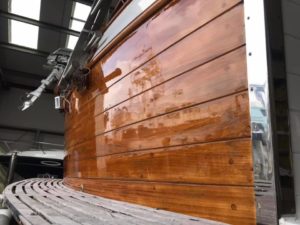 Hand varnish of Transom on a Grand Banks 46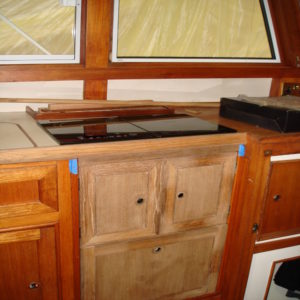 Galley Fabrication