Hand varnish of Transom on a Grand Banks 46
This was just one section of the project carried out on the Grand Banks 2018/19, was to hand varnish the transom.
The first job was to tape and prep the transom for removal of old varnish, and to protect against the varnish chemical remover.
Next we removed all the fitting from the transom to access the working area, these fittings were; 2 stainless steel corner straps, 1 boarding ladder, 1 nav-light and a bathing platform, all were refitted on completion of varnish.
The old varnish was stripped using a chemical remover, the whole areas was sanded and prepped ready for the application of varnish.
We applied 18 coats of varnish, sanding in between each coat.
Varnished used in this application was Epifanes clear varnish along with Epifanes PU, anti UV varnish, with an added drying agent mixed into the single pack.
Take alook at our other jobs on her  –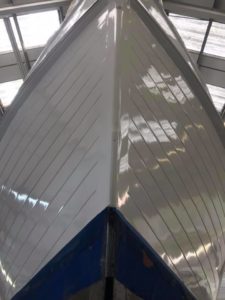 Respray of Grand Banks 46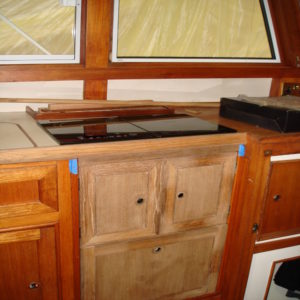 Galley storage Fabrication on a Grand Banks