Maintenance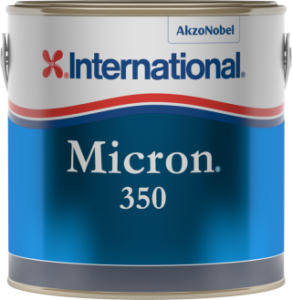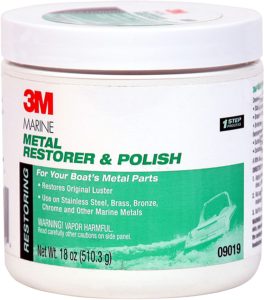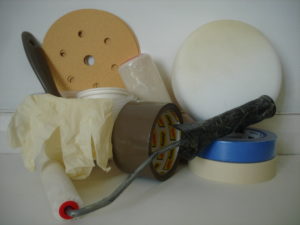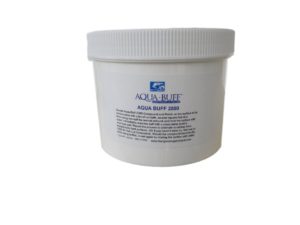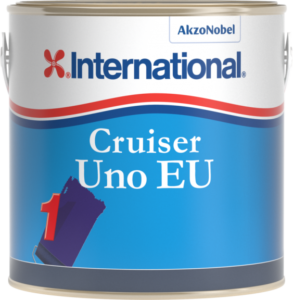 JWS Marine offers an extensive boat detailing program, be it just a wash down or a complete buff and polish.
We can customise a program for your boat all year round, keeping it looking new and protecting the paint work and gel coat from the harsh elements, so all you have to do is jump on board and enjoy your boat.
There are many options available and an array of areas covered under the maintenance aspect of boat ownership, below are a few examples of these –
Full Valet:
Boat looking a little dull? Give her a new lease of life with a full valet, which includes but is not limited to
Steam clean of the hull and Super structure wit hot soapy water and then dried off (This task would be dependant on access)
2 Non-aggressive compounds are used on the hull
2 Coating of wax are applied by hand
Teak Cleaning:
Rejuvenate all your boats teak with a teak clean, this is a 2 part product that will give the teak a new lease of life.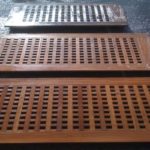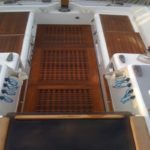 Vessel wash down:
To remove that yearly build up of salt and grime, we can carryout a yearly wash down of the hull and super structure upon lift out to help against the salt deposit around the fixtures and fittings.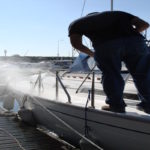 Machine B&P to gel coat and paint work:
Buff and polishing is an essential part of keeping your boat to a high standard. B&P of  a boat is not as easy as you may think, as most B&P products have Teflon in them, this removes a small amount of gel coat or paint with each application and over time this impacts on the thickness and shine.
Here at JWS we apply just the right amount of product needed to carryout the buff and polish to a professional level, resulting in some boats being able to spread the B&P requirements  to every 2 years as opposed to every year.
Picture below shows the Starboard side buffed with the Port side un-touched, you can see the difference a B&P makes.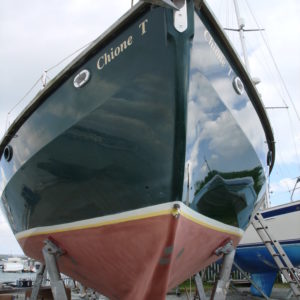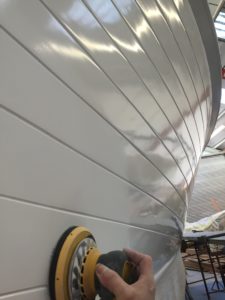 Stainless steel polishing:
One of the most important items of your boats maintenance is the polishing of the stainless, this includes stanchions, windows frames, fixtures and fittings. Before we start a job we do a walk around to check for defects such as broken split pins or cracked bottle screws etc, if stainless requires polishing this will be added into the program at your agreement.
Carpet and upholstery clean:
We can carry out a full steam clean of carpets and soft furniture to removed grounded in dirt and stains.
Upholstery recovering:
Looking for anew colour scheme, then we have a great sub-contractor that can carryout all recovering and alternations.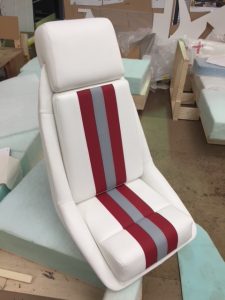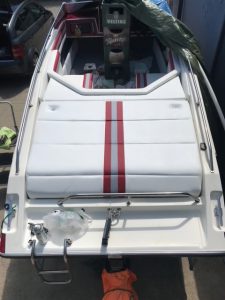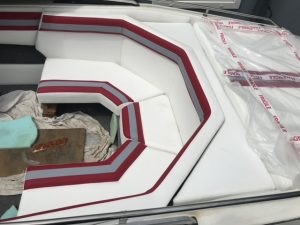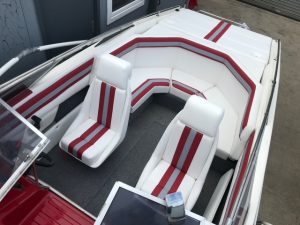 Bilge and Engine room:
De-greasing oil and grey water removal from your engine room, cleaning bilges, yes, it is very messy and smelly and not a job for the faint nosed. JWS use products that are environmentally friendly but can still carryout the job adequately. Engine room bulkheads, floors and stringers can easily be re-flow coated (Painted) to bring them back to new condition.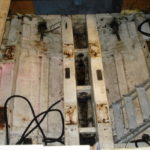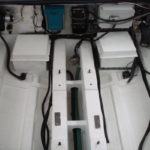 Before we start the cleaning process, we go on board and lay down cloth over the carpet, we use the hard durable carpet protector. We can also remove and replace insulation materials to achieve the most effective noise reduction available.
Covers and Canopies:
Bird droppings, mold build up on edging and stitching or just day to day dirt and grime, we can clean these or in some cases we can send the covers off for dry cleaning.
Stain Removal:
Any stain can be tackled, whether it be in the gel coat, fiberglass, paint work or other, after many years experience in this business, there isn't a stain we have not seen.
Treadmaster:
Is your tread-master, anti-slip deck coating looking a little worn and tiered, why not try TREADCOTE paint, treadcote is designed to rejuvenate the appearance of heavily weathered or stained TREADMASTER original.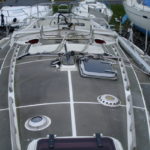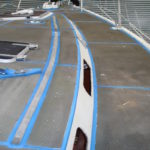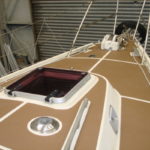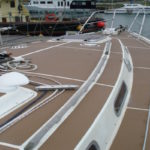 It comes in 4 of the original treadmaster colours ~Blue, Fawn, White and Grey.
Blasting:
We offer a blasting system, which can be carried out within Southsea Marina or in some cases we are able to carry this out at other Marinas, subject to access.
We offer 3 abrasive levels, 2 that can be used on the hull and a third that is primarily used on the keel only.
Soda Formula Maintenance XL:
This is a plain soda with average crystal sizes of 250  microns, this is generally used for the heavy cleaning and paint in one operation without causing any substrate damage. Prices for this abrasive start from £21.00 Ex Vat per foot. (Plus waste disposal cost)
Hard Abrasive Restofine G200:
A fine recycled glass abrasive with a close range of 0.10-0.20mm and with good flow properties, this is a very popular abrasive, designed for precision cleaning and paint removal but also capable of rust removal, leaving a fine profile ideal for re-painting. Prices for this abrasive start from £20.50 Ex Vat per foot. (Plus waste disposal cost)
Hard Abrasive Restofine 25/50 Grit:
A fine synthetic abrasive primarily used on the keel(s) with a larger size range of 0.25-0.50mm and is designed for a heavier paint removal or where faster speed is required. Price for this abrasive are on a per keel basis and start from £120.00 Ex Vat per keel. (Plus waste disposal cost)
On the occasions when our blasting machine is not available because it out for servicing etc we have a great sub-contact company that will carryout the blast, this cost starts from £22.50 Ex vat per foot. (Plus waste disposal cost)
The prices supplied above are standard list prices for our blasting service, please do give us a call to discuss your requirements.
As you can see from the Radar mast pictures below, we are not limited to just Hulls!!!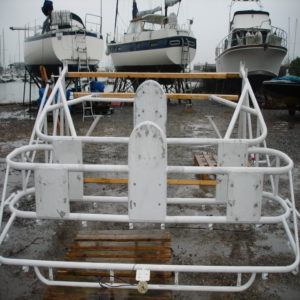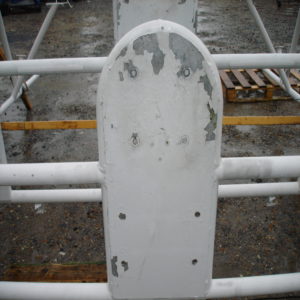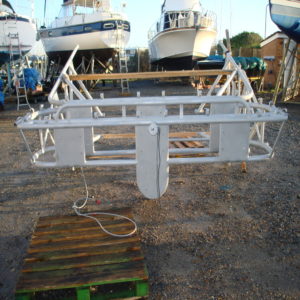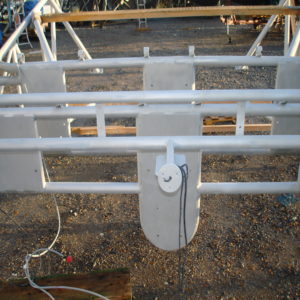 Antifoul Application:
We can supply and apply all ranges of anti-foul on the market, the hull will be inspected then prepped before the application of anti-foul, Primer will be applied if required followed by the anti-foul. The hull is then de-taped, cleaned off and a final inspection made.
Most common anti-foul applied is International Micron, but we are happy to source and apply which ever your preferred anti-foul may be.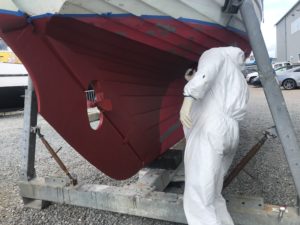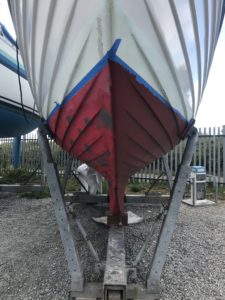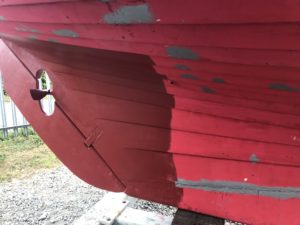 Anodes:
We can supply and fit all types of anodes, aluminium, magnesium or zinc.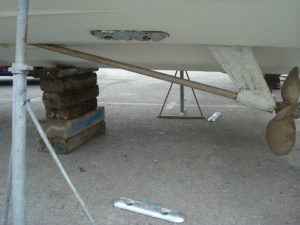 .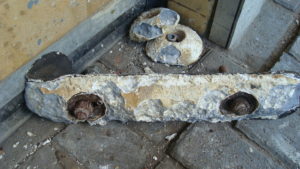 .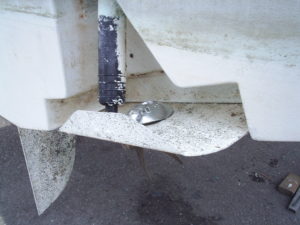 Seacocks:
We can carryout the servicing and pink testing of blakes skin fittings and ball valves. We also supply brand new fittings in bronze, DZR or the most recently requested TruDesign units, these are glass reinforced nylon composites.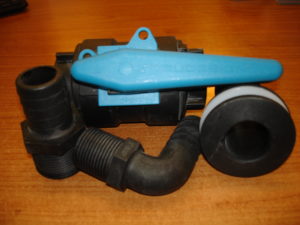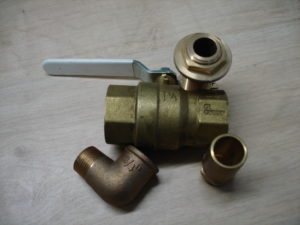 Take a look at the link for more info on TruDesign products  – http://trudesign.nz/marine/products
Prop Clean:
We carryout cleaning of the prop using a great product called prop-clean.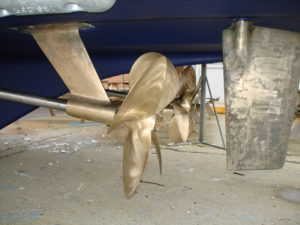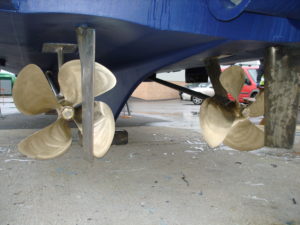 Services
JWS Marine Services pride ourselves on our ability to give the customer what he or she wants. We offer a range of services in order to restore your vessel and take great care in doing so. Click one of the below to find out more.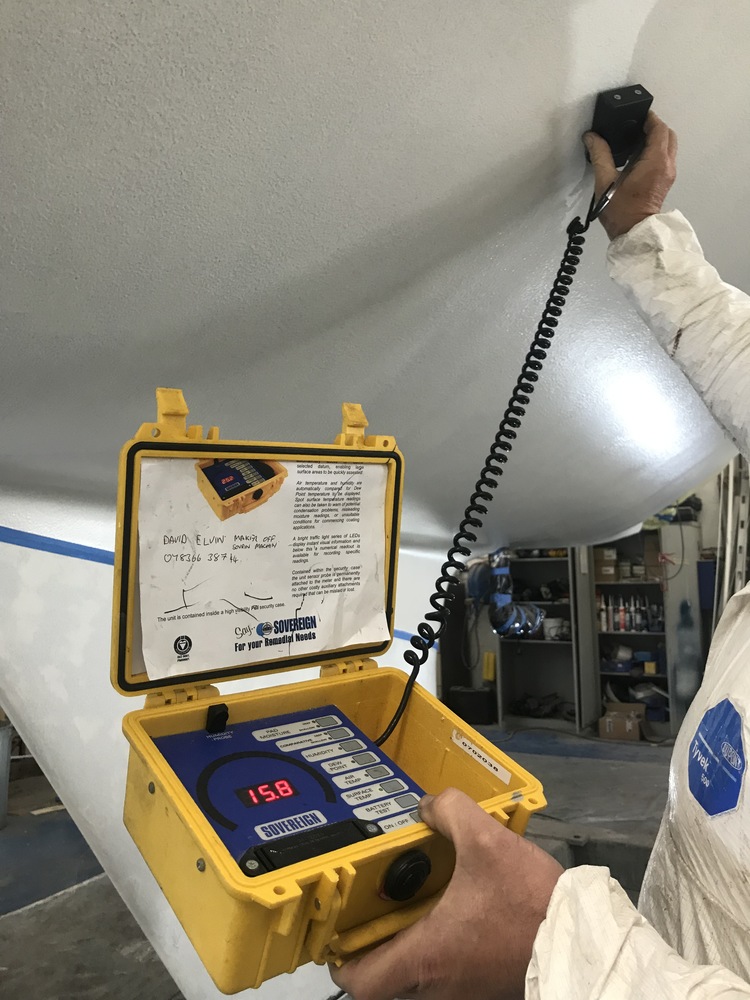 Osmosis Treatment using Hot-Vac cure
A 6 week (min) Treatment carried out within our workshop with the use of a Hot Vac curing system.
Optional Extra available such as surveyors oversight etc.
View Service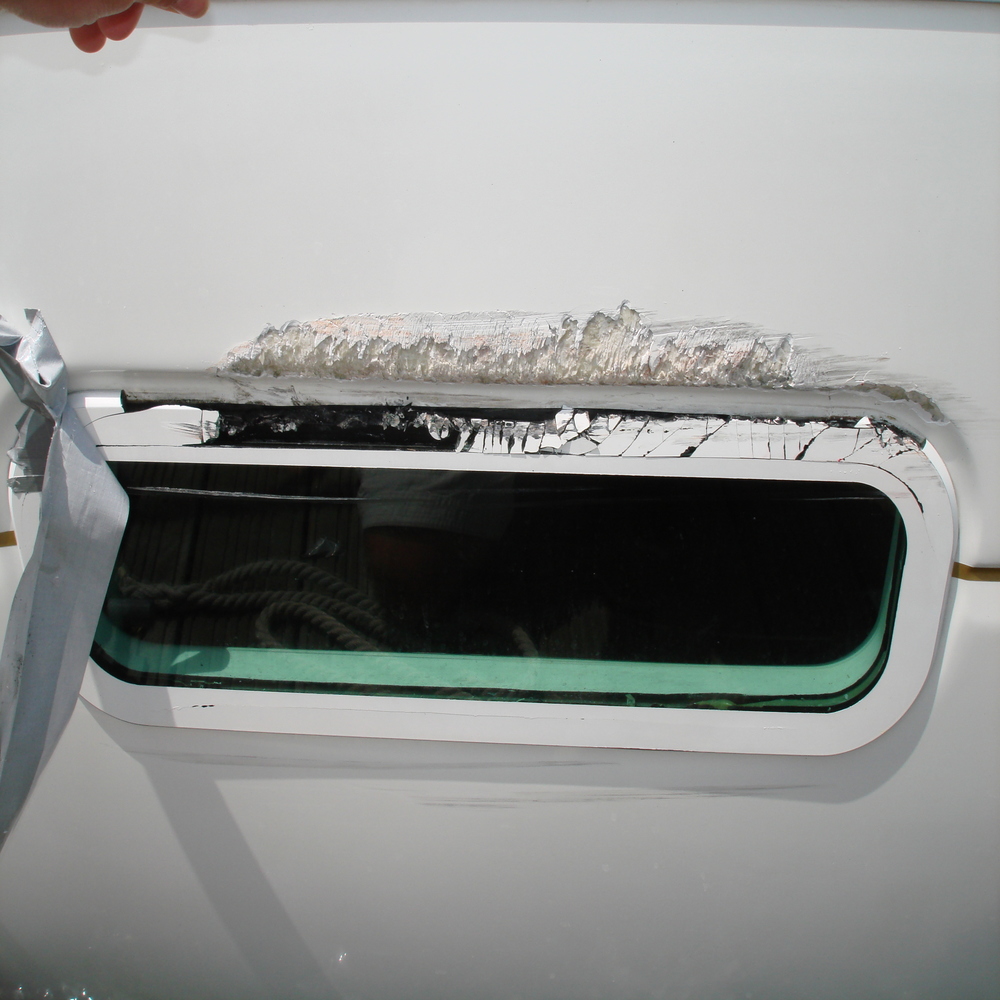 GRP Repairs
Whether it be from a small scratch or some star crazing to a hole or dent caused by an impact, with our expertise and high quality finish on all gel repairs carried out you will be pleased with the finished result.
View Service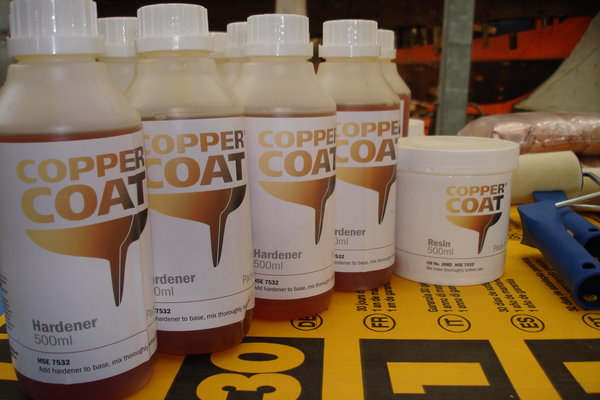 Copper Coat
Copper coat is a tough and robust product that will last the rigours of time in every mixture of water grade. It is the combination of a specially-developed, solvent-free epoxy resin and high purity (99%) copper.
View Service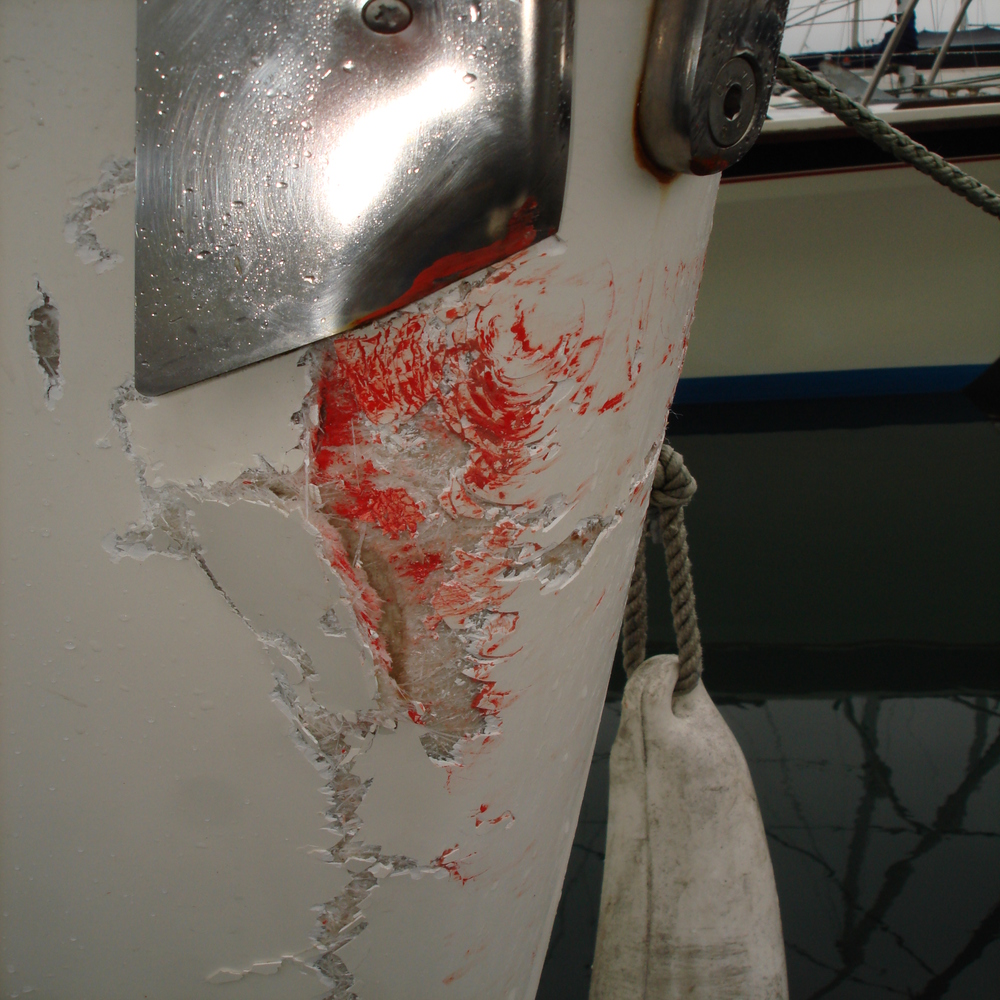 Insurance Works
We are happy to provide competitive quotes for all insurance claims/works please contact us with all your details.
View Service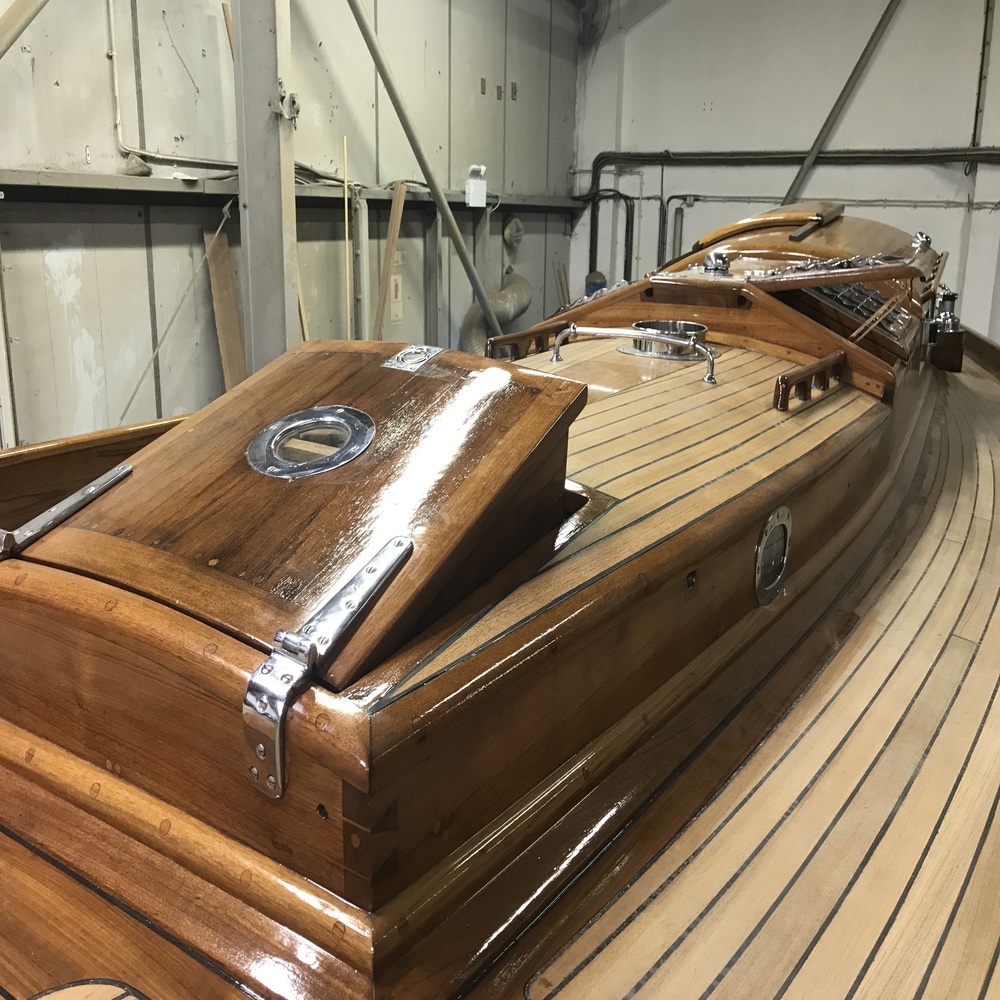 Shipwright & Carpentry Work
JWS Marine services real passion is wooden classics and we enjoy nothing more than working with them whether it be from a minor repair to a total re-fit and all that is in between.
View Service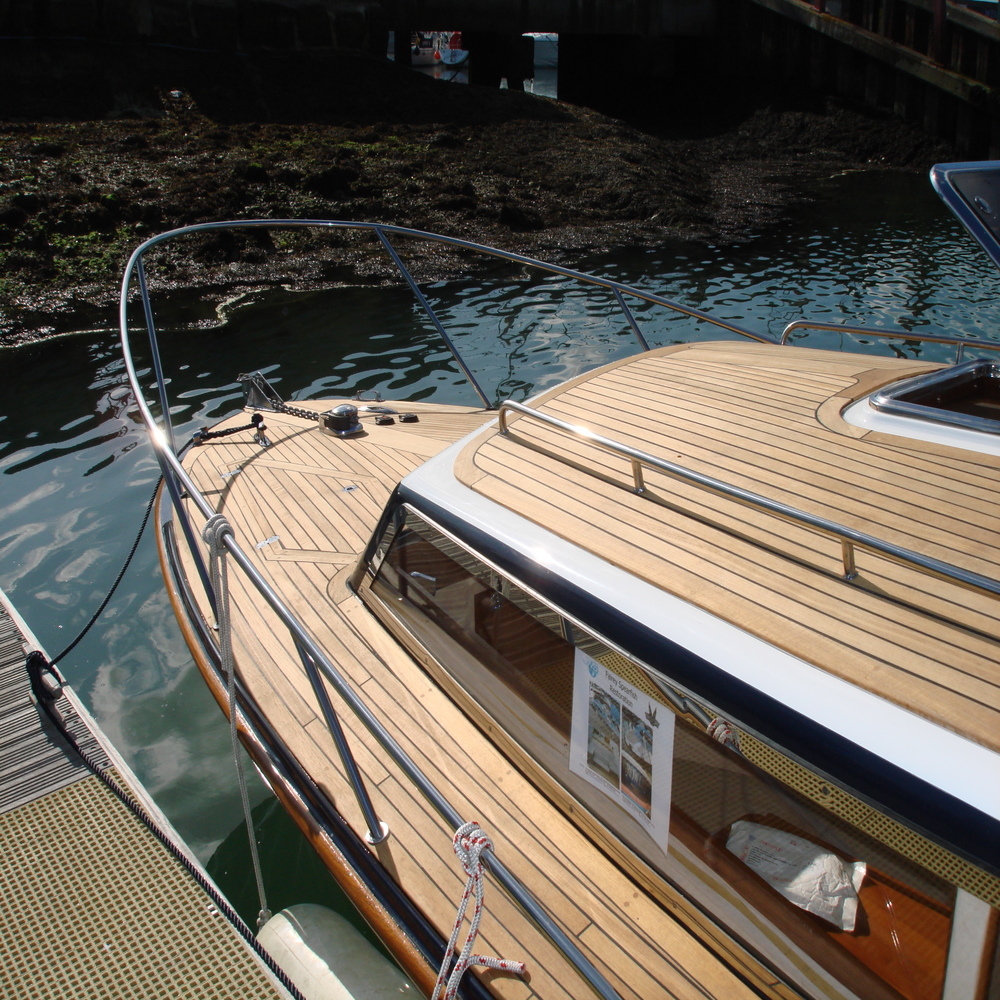 Wooden and GRP Refits and Restorations
There is nothing better than restoring a thing of beauty back to her Glory, That's just what we do here, from start to finish in wooden and GRP.
View Service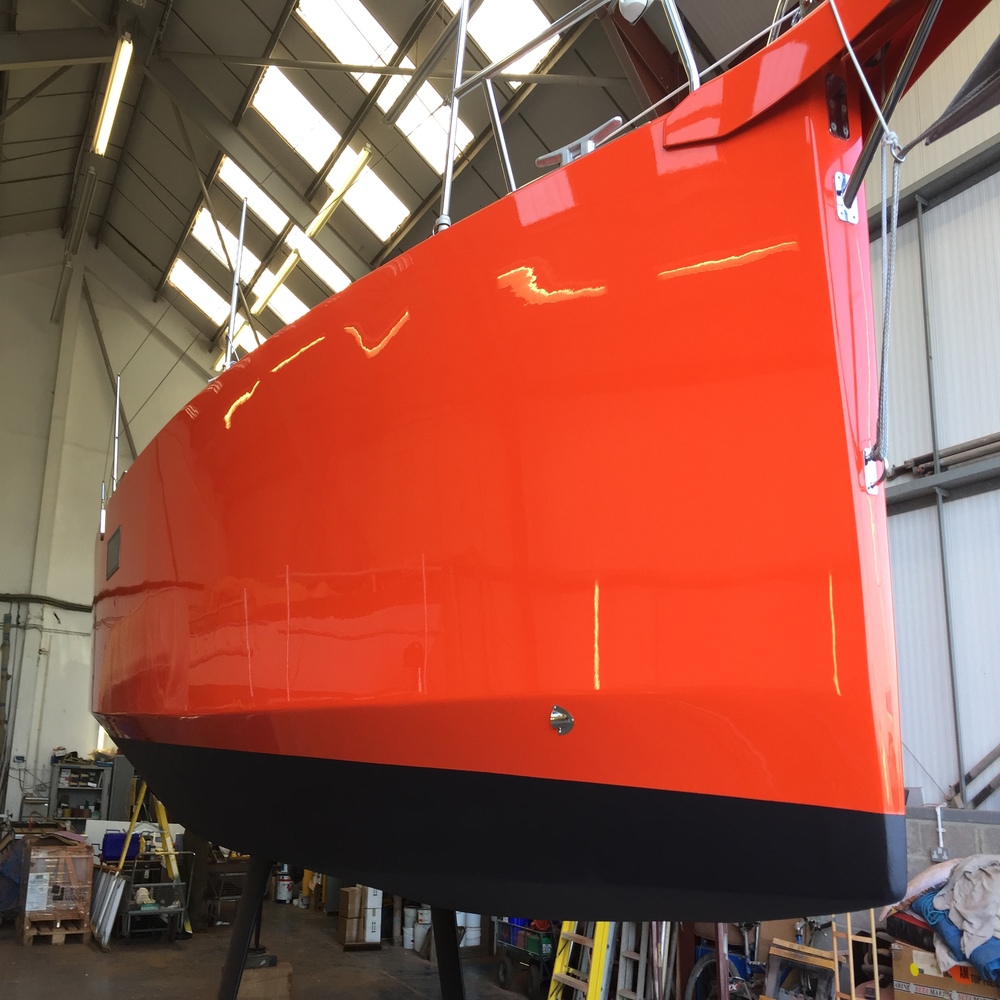 Spray Application
Looking tiered, slightly damaged or how about a new colour scheme.
Re-spray is the way forward, to bring her back to all her glory, with a variety of colours to choose.
View Service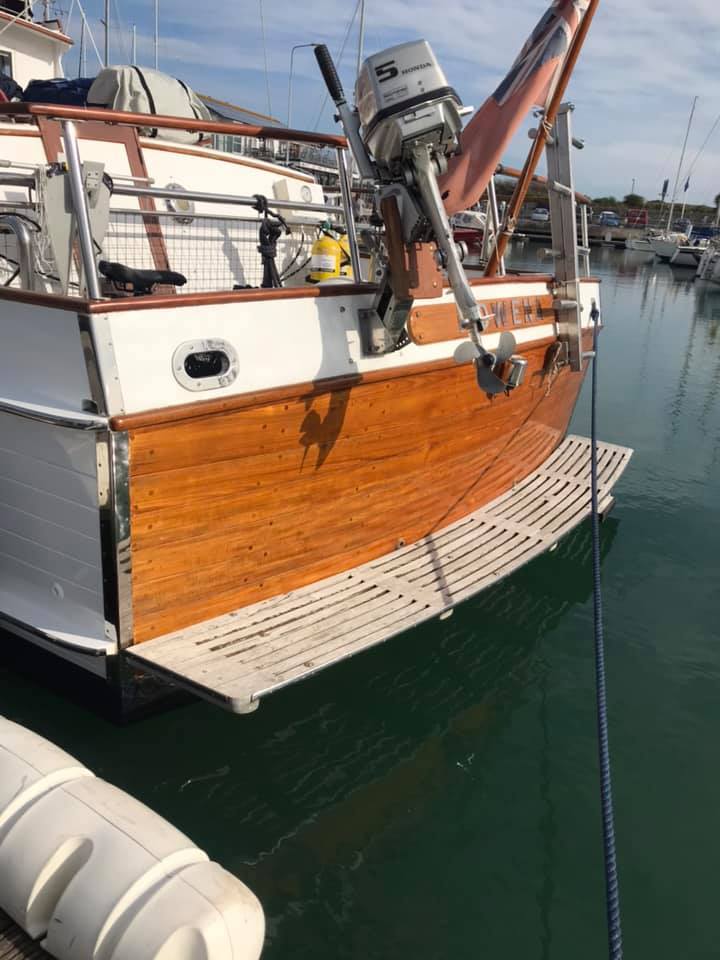 Hand Painting and Varnishing
Traditional hand painting is one of the hardest things to get right. JWS Marine services have refined the process and products used.
View Service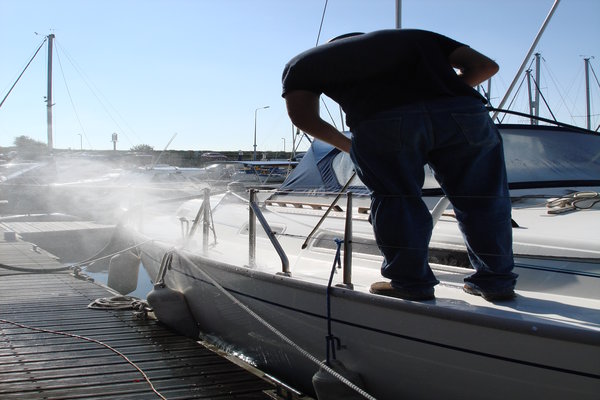 Maintenance
When it comes to your boat, keeping her looking tip top is always first on the list, with our maintenance programs we are able to provide a detailed program tailored to you and your boat need, whether that be a basic yearly Antifoul to a full maintenance program
View Service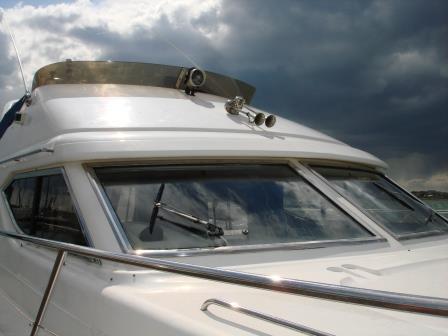 Window/Hatch Refurbishment and Replacement
From a single refurbishment to a complete replacement of all windows and hatches JWS can help.
View Service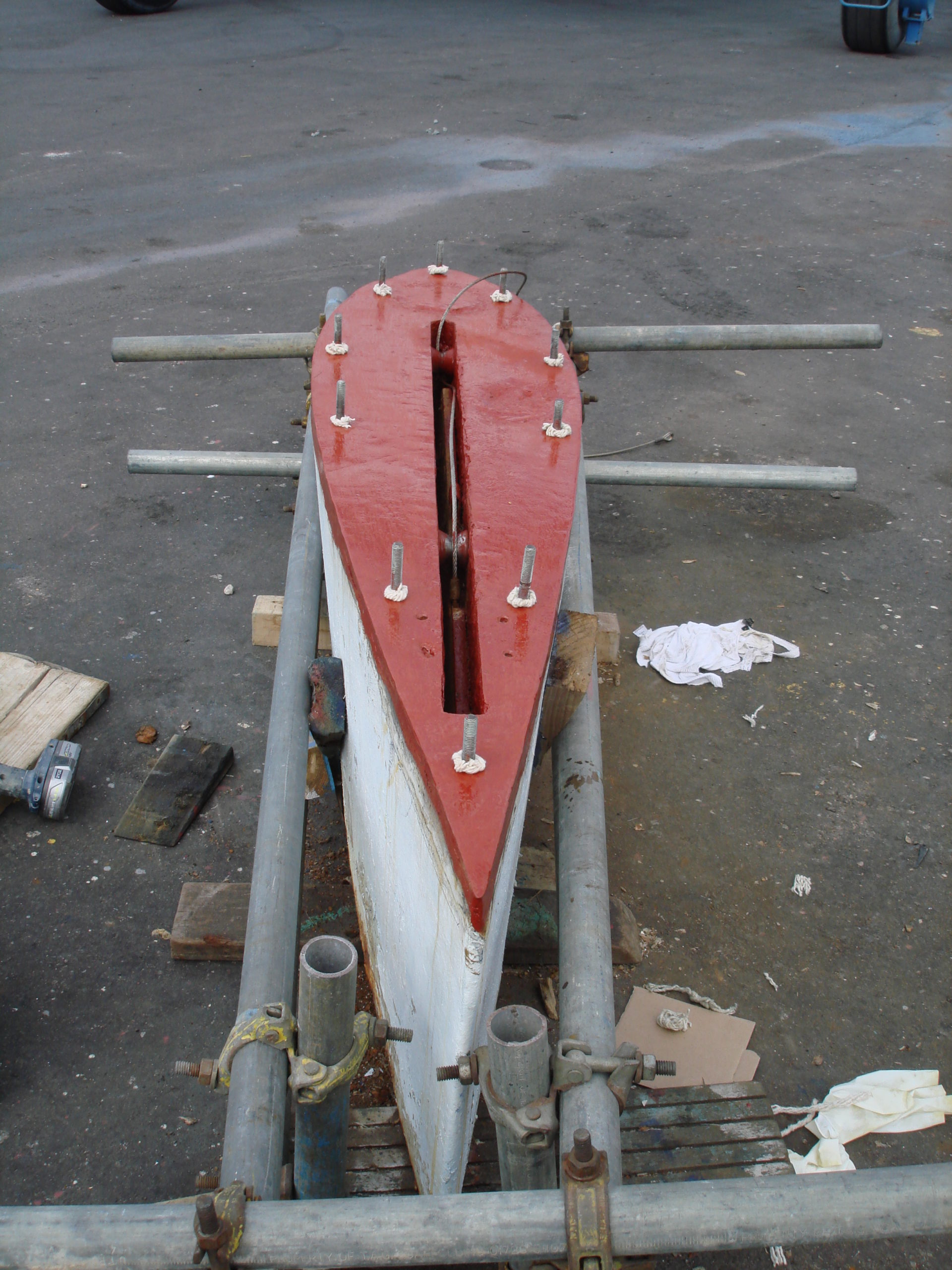 Keel Re-works and/or Removal
We carryout this type or repair/replacement quite frequently and have seen and overcome most issue that can arise when working with keels.
View Service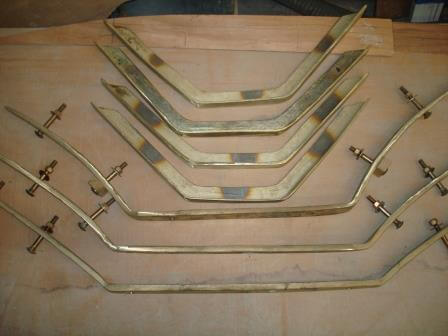 Metal Design, Fabrication and install
This section is currently in development, please check back soon
View Service