Westerly Conway – Refurbishment of internal floors, headlining and Treadcote
Boat was already with us for a Full osmosis treatment followed by a Copper coat application.
While in the workshop the owner opted to have some areas of the boat refurbished, starting with the headlining'
We removed all the old headlining from the saloon and front cabin, on removal once the headlining materials was separated from the ply wood panels, each panel was assess to see if it could  be re-used.
All surface areas were cleaned in preparation for the new headlining to go back up. Once up they were finished off with teak battening, varnished with 2 coats of Gloss varnish.
Quite a few of the panles had to be replaced so we set about measuring and cutting the new panels from ply, these were thenc covered in Nautolex Vinyl, the colour used in this application was Ivory.
All surfaces were clean and prepped ready for the new headlining to be refitted.
Once fitted we finsihed it off with teak battening which we applied 2 coats of Gloss varnish.
The flooring in the saloon and the cockpit stairs were in need of some TLC, so we removed all the loose flooring, taped up ready for sanding, sanded then applied 6 coats of varnish.
The tread on the deck was looking dull and faded, so first we gave all the tread a good clean with Treadmaster cleaner, we followed this up with the application of Treadcote paint, the colour used here was fawn.
We also carried out a Osmosis Treament followed by the application of Copper coat, please click the link below to take a look –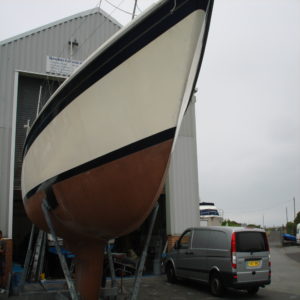 Westerly Conway Osmosis Treatment, followed by application of Copper Coat