»
»
Strict Standards: Only variables should be passed by reference in /home/sites/jwsmarineservices.co.uk/public_html/wp-content/themes/jws-marine/functions.php on line 140
»
Westerly Conway Osmosis Treatment, followed by application of Copper Coat
Westerly Conway Osmosis Treatment, followed by application of Copper Coat
Came to JWS late 2012, with Osmosis in the hull from the offset we know this wasn't going to be a straight forward treatment.
First hurdle was making the decision whether to machine or hand peel her, in the end a combination of the two was carried out.
We generally tent up the hull mainly to protect the blasted hull, before proceeding to the hot-vac treatment, however with this project we tented her then left her with inferred heaters on localized seeping areas while tented for 7 week in total to try and draw the moisture from her hull.
While in the care of JWS the owner opted for some other items of work to be undertaken, such as the application of Copper Coat, new headlining in the saloon, and varnishing of the floor boards new treadmaster paint applied to the deck and also the replacement of all seacocks with TruDesign
The following images show the Osmosis treatment.
1-3 – Hull before work has started
4-7 Hull peeled
8-9 Blasted
10-12 Inferred on seeping areas
13-15 Hot-vac treatment
16-18 Application of the extra layers
19-23 Osmosis Epoxy coatings
24-26 Copper Coat applied
There was water seeping throughthe hull from the keel bolts.
To repair this we grinded back the area on both Port and Starboard side to allow the water to be released.
2 infered heaters where put on both areas and allowed to dry over 1 week.
The area was then cleaned and prepped for re-lamination back to the orginal thickness.
Once this was completed we moved on the applying the stifferning layers in varioes areas of hull using 450csm and 600csm.
Next step was to bring her into the shed for the hot vac treatment, in most cases we would only have to carryout 1 course of Hot-vac treament in this instance due to the high moisture content trapped in the hull we had to carryout 2 rounds of the hot-vac treatment.
It was agreed to add an additional later of matting to to the hull, this was done using 3 layers of 450 CSm and 2 layers of 600csm.
Now that the layers have curred we carried on with the application of AMC-100 Epoxy coatings.
We applied 1 layer, the hull was then fill and faired off before appliying the further 4 coats.
The treatment was completed and we finished with an application of Copper Coat.
Please click on the link to see the other work carried our during her stay –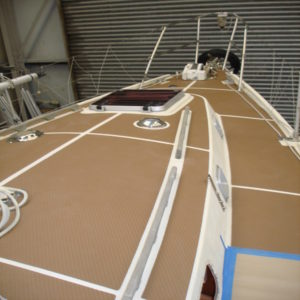 Westerly Conway – Refurbishment of internal floors, headlining and Treadcote